Fire crews in the North West are tackling another moorland blaze.
Fifteen fire crews were called to the fire on Winter Hill, near Rivington, Lancashire, on Thursday.
Seven fire engines from Greater Manchester initially went to the scene, along with five from Lancashire Fire and Rescue Service, when the fire started shortly before 3.30pm.
The Manchester crews were later replaced by more Lancashire crews.
Deputy Chief Fire Officer for Lancashire Justin Johnston wrote on Twitter: "We're moving to 15 Lancs appliances at #WinterHill which will release our Manchester colleagues.
"A sterling effort is being made to get it settled before nightfall.
"A massive well done to not just the 80 firefighters on scene but also the command and control teams supporting and co-ordinating in the background."
Huge plumes of smoke could be seen from the area surrounding the moorland.
A spokesman for Lancashire Fire and Rescue Service said: "The area affected is approximately 1km square in size.
"Firefighters are tackling the fire from three locations using specialist wildfire fighting equipment plus hose reels and beaters.
"Mountain rescue officers and United Utilities are assisting at the incident."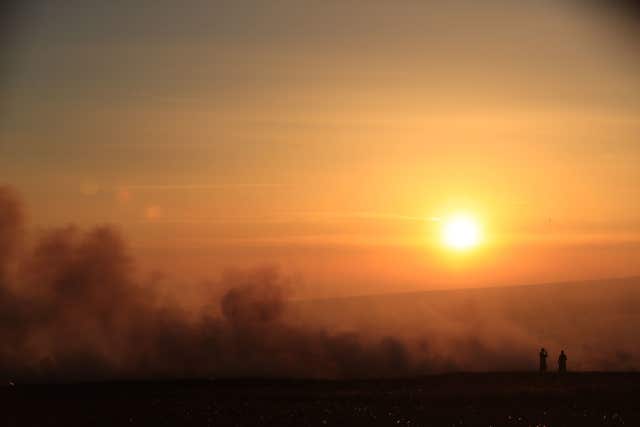 The spokesman said there was no immediate risk to livestock, domestic properties or infrastructure but residents were warned to keep doors and windows closed.
Firefighters in Greater Manchester have been tackling a blaze on Saddleworth Moor since Sunday, where soldiers have been called in to help.